Miss Bobby-Socks and the Giant Ball of String
Written by Jacqui Brown and Illustrated by Gail Yerril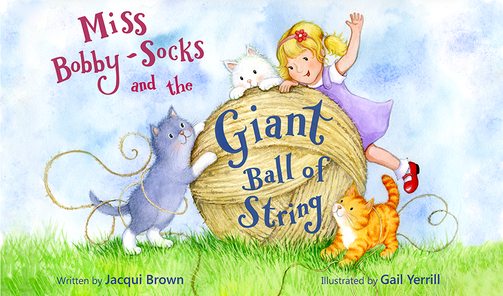 Poor Miss Bobby-Socks' giant ball of string is missing! Where could it have gone? Join in Miss Bobby-Socks' adventure as she chases the string's trail over the armchair, down the stairs, into the laundry tub, across the piano, through the garden, into the letterbox (watch out Mr Postman!) and even into the yard next door where the puppies are playing tug-o-war. Will she find her giant ball of string? Or did her cheeky friends, Pistachio and Teddy legs, have it all along?
Kid's Book Review
said: 'Jacqui Brown's delightful narrative, complemented by Gail Yerrill's gorgeous illustrations, makes for a beautiful story full of character, colour and fun, which children will want to read again and again...
Miss Bobby Socks and the Giant Ball of String
is a certain thumb's up.'
Purchase your copy, or download a free sample, by clicking the Amazon link below:

You can also follow Miss Bobby-Socks on Facebook or Twitter - just click the social icon below.