Jacqui Brown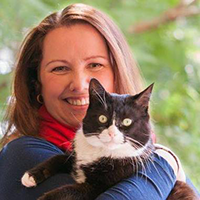 Jacqui Brown is an author, scientist, and cat-lover from the Northern Beaches of Sydney, Australia.
Freelance Writing and Copywriting
Twenty years in the pharmaceutical industry working with specialists, doctors, researchers, pharmacists and customers has taught Jacqui the power of communicating the right words to the right people.
She creates engaging, entertaining and educational content to make science and health information accessible to everyone.
Jacqui has a Bachelor of Science in Pharmacology and Physiology from University of NSW (including studies in human biochemistry, anatomy, biology, chemistry and social psychology). She is a member of the Australasian Medical Writers Association.
Fiction Writer
Jacqui has a Master of Arts in Creative Writing from Macquarie University.
Jacqui was awarded the
Eleanor Dark Varuna Flagship Fellowship for 2019
​for her young adult
speculative fiction
manuscript set in an outback Australian oil town in 1983.
In June 2019 she won
Press 53 Prime Number Magazine's 53-Word Story Contest
, and has been published in
The Quarry Journal
. Recently she put the final sentence on her first children's manuscript, a ghostly detective story for middle-grade readers.
Jacqui is a member of the
Northern Beaches Writers' Group
and has co-authored
two "
write a book in a day
" projects which raise money for The Kid's Cancer Project.
Born in Kingston-on-Thames in London and migrating to Australia with her family at the age of seven, she now
lives in Freshwater with her husband Phil, and her cat Softie.